Recording Audio at Home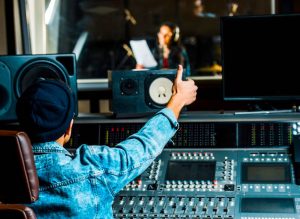 At the Cartlands Foundation we love to hear about our upcoming musician's projects. To that extent, here is a useful guide put together by some of our aspiring young musicians to help get you started:
–
Regardless of whether you are a complete beginner in the world of music production or a full time professional, there will always be a few pieces of music equipment you will need to help record your masterpiece.
Indeed, there is a saying in the audio community – the gear doesn't make the song. This couldn't ring more true than in 2020, with a handful of Grammy award winning songs being created in the comfort of a home studio such as Billie Elish's "Bad Guy". There will however always be a few pieces of equipment that you just can't do with out.
Here are the bare necessities (in no particular order) to help get you started:
Set of Speakers:
These monitors will let you listen to your mix and help you to even master your own music at home. A good pair of monitors such as the Yamaha HS5s or the HS8's are great.
Headphones:
There is a debate whether you can mix alone on headphones. The short answer is yes! However if you are taking your music production seriously, then it's hard to leave headphones out of the list. Speakers and headphones go hand in hand. If you are just starting out then perhaps invest in a good pair of headphones first, before investing in the speakers. Top of the list are the Beyerdynamic Pros (closed back for overdubbing vocals and good in general for listening) and in the higher end go for the Senheiser HD 650s (open back and brilliant for mixing).
Interface:
This is what you connect your speakers, headphones, microphones and instruments into. From there your interface will connect to your computer. A big favourite has to be the Apollo range from Universal Audio.
Recording Software:
DAWs include Pro Tools, Logic Pro X, Abelton Live, Studio One. Think of Digital Work Stations (DAWS) as your hub where all the above lives. All DAWs work in a similar fashion and each has its own merit. In the end, they all work to produce the same outcome – your music! Great software can also be found on tablets such as iPads. As a great insider tip, it's highly recommended to test out Garage Band on your ios mobile device. Its free to download and will give you a taste of what you can do on a full DAW production suite.
Microphone:
A tough call for the number 5 spot. Is a microphone essential? Well, the answer is just about! With so many mobile phones and tablets having a voice recorder function, did you know you have a decent microphone right in your very own pocket? If you are in search for your fist (and probably last) studio grade microphone, then first choice should be the Shure 57. It gets the job done on everything, from vocals to snare drums. It's a microphone you can really record all sounds until your heart is content.
* Midi Controller Keyboards, Guitars, Drums, Yazzoos? They didn't quite make our list of 5 essentials but all are worth a notable mention.
–
Are you an aspiring musician and want to look at improving your skills? If you have questions on how to get started in the music industry or are looking for guidance, get in touch with the range of Music Projects at the Cartlands Foundation.