Anglo-Peruvian Cultural Aid Project
"We each have our own mission in life. Help from foreign volunteers offers underprivileged communities to hope for their future. For the locals, it's a chance to meet people from different cultures. For volunteers, Peru is a chance to explore the wonders of an ancient culture … while discovering the wonders in yourself."


Anglo-Peruvian Volunteer Project
Our Anglo-Peruvian project is an international scheme run by the Cartlands Foundation to further develop links between English and Spanish cultures, providing volunteers in areas where they can make the biggest difference. From language and food, through to the arts of dance and music, British and Spanish cultures are rich with a very diverse history.
During their stay in Peru volunteers work to improve education for children by teaching English in local schools, assisting with the care of infants and children and improving health and a sense of dignity amongst the elderly, all while sharing their knowledge of British culture. You'll become part of a diverse community and find yourself participating in easy and open cultural exchange with local people – learning about the Peruvian way of life while sharing your own heritage and values.



Volunteer Activities
Central to all our international projects is the idea of cultural exchange and the benefits that can be achieved through the sharing of different heritages, values and traditions.
To improve education for children, volunteers work helping teach English to children in either a primary or secondary school classroom. While many of these schools are government funded or otherwise subsidised, they are often largely underfunded and deal with the constant challenge of poor attendance. Having a visiting native English teacher is seen as a special treat by students, a great way for them to engage while at the same time learning about British history and culture.
When you assist with the care and health of both children and the elderly, you'll support one of a variety of government run organisations established to provide public services to the most underserved sectors of Peruvian society, including visits to national state hospitals. By offering up their time, our volunteers participate in enriching activities to help people when they are most vulnerable, such as following an operation or life changing event.
To share their knowledge of the arts, volunteers are openly encouraged to use different aspects of British culture to facilitate their interactions with Peruvians. Whether through playing British music or helping exchange culinary ideas by preparing English dishes in the kitchens, there are always plenty of opportunities to share ideas and customs.


Cultural Activities
In addition to our important work in the community, all volunteers have the opportunity to immerse themselves in local Peruvian culture through a variety of activities intended to make the visit a truly enriching experience. Some of the highlights include:
Lima History Tour- The Capital of Peru is known as The City of the Kings. Visit the Iglesia de San Francisco known for its underground tunnels and serving as Lima's first cemetery, before taking a tour through the different districts and visiting Casa Luna, showcasing a rich Peruvian culture that most tourists never get a chance to see.
Spanish Lessons – While all volunteers are required to have picked up some basic Spanish in time for their visit to Peru, there is nothing like learning a language in the place where it is fluently spoken. Weekly Spanish lessons are offered by native speakers, a great way to help you improve your communicate with the locals during your volunteer experience. Courses are tailored for beginner, intermediate and advanced speakers.
Peruvian Cooking Lessons- No visit to Peru would be complete without a true culinary experience. Peruvians are proud of their food and the richness of their ingredients. Our volunteers will learn all about the delicious array of local dishes and get involved in preparing them through weekly classes led by native chefs.



Recreational Time
Many of our volunteers use their free time on weekends to go out to explore greater parts of this beautiful country. Popular ideas include:
Visit Cusco
Explore the mysteries of Machu Pichu
Explore the Amazon Rainforest and Lake Titicaca, the largest lake in all of South America


Accommodation and Food in Lima
Your Peruvian home away from home is located in a lovely safe community run in partnership with the Franciscan Missionaries of Mary. Situated in central Lima and just a short walk from all conveniences, the house is a great base from which our volunteers can get the most our of their experience.
Volunteers will each be allocated their own private bedroom, with plenty of storage space for your belongings. Living areas are communal, a great spot to play board games with fellow volunteers, get lost in Spanish literature or simply improve your language skills by talking with the locals.
And then there's the food in Peru. Volunteers are amazed at the diversity of Peruvian cuisine. Included with accommodation is a daily breakfast: delicious and hearty, cooked by local chefs and includes eggs, breads, fruits, juices, and a warming cup of coffee to begin your day.


Requirements
Volunteers need to be 18 years old and over.
Provide a current enhanced DBS check to permit them to work with children and vulnerable people.
As a minimum, the ability to understand and speak basic Spanish by the start of the program in Peru. While volunteers are not expected to be fluent, they will need to be able to communicate in Spanish to at least a basic level to take part in the activities, in what are mainly non-English speaking areas. This does not mean that non-Spanish speaking volunteers are excluded: it means that they have to commit to reach at least the minimum basic level of Spanish by the beginning of the program. The Foundation is able to offer helpful Spanish learning resources to non-Spanish speak volunteers on sign up.
Volunteers must demonstrate an interest in History, Sciences or The Arts. To this end, applications should be supported by a short personal statement of a minimum of 400 words, setting out the volunteer's interest in the scheme and their suitability through their skills and experiences to date.
The contact details for at least one referee – a non family member – such as a professor or most recent employer. All information on applicants is confidential and treated in accordance with the Data Protection Act.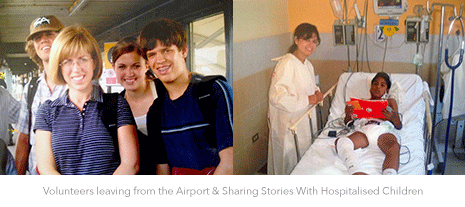 Why Volunteer?
A Life Changing Experience. This is how volunteers often describe taking part in this type of cultural exchange. A positive change to your outlook on life. A way to give back to those that are less fortunate while at the same time learning to appreciate your blessings. Volunteers make lifelong friends with other volunteers as well the locals, learning new skills and returning home refreshed and inspired to face any challenge.
Cultural Community Impact. We work with local organisations at ground level to understand real need and provide assistance accordingly. Our volunteers make a meaningful difference
Chaperoned and Secure. Contact with our volunteers begins from the moment of sign up. Volunteers receive pre-planning information to ensure that they are ready for their experience in Peru, covering everything from visa advice to what to pack and invaluable inside information. Once in Peru volunteers take part in a full induction process, an important step in ensuring that the goals of activities are fully understood and met to maximise the benefits to the community and volunteers alike. The scheme is chaperoned, providing help and assistance through bilingual English and Spanish speaking chaperones from the Cartland Foundation, ensuring the safety of our volunteers for complete peace of mind.
Improve Your Own Career Prospects. As a bonus to the above, the experiences volunteers have in Peru will provide them with life long skills which any prospective employer or educational provider will desire. As an example, previous volunteers have gone on to gain admission to the likes of Imperial College London by setting out their work helping in Peruvian state hospitals acquired through the scheme in their medical degree applications.
Low Cost. As a Not-For-Profit Organisation, the scheme is offered on a cost only basis, offering volunteers the chance to take part in a fully organised cultural experience at a substantially lower cost than commercially organised travel experiences.


Dates and Fees
The Cartlands Foundation is not-for-profit charitable organisation. As such volunteers benefit from being able to take part in this project at a low all inclusive weekly fee which is set to only cover the costs of offering this project to our volunteers.
2021/22 Scheme Rate: £400 per week.
Rates are inclusive of the cost of accommodation, breakfast, all volunteer program activities (including daily transportation), chaperone to assist throughout and project administration.
Volunteers are required to arrange their own flight and travel arrangements to and from Jorge Chavez Airport in Lima, Peru. Additional funds will be required for lunch/dinner (suggested amount £70 per week) and for any recreational time activities.
2022 Dates: Monday 10th of January – Sunday 23rd of January 2022
Closing Date for Completed Applications (with non refundable £400 first week payment):  13th of December 2021
Full Balance Due Date: Friday 31st of December 2021
The best way to cover the costs for the above is for volunteers to take part in fundraising. Visit our Support The Cartland's Foundation page for more ideas.
The Cartland's Foundation does also have a limited number of grants available for volunteers who are unable to afford the program fees due to financial restraint and who show greatest ability to benefit/offer the project through their skills and qualifications, as well as life experience. If you wish to apply for a grant please state this in your application.


Application
Would you like to make a difference and take part in this year's scheme? If you can meet the requirements as described above and feel you have the ability to contribute please contact us using the form below: